Don't Put Your Life on Hold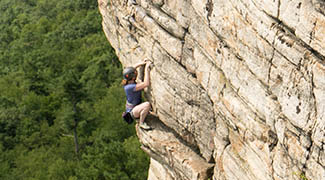 On my first day in the hospital as a new intern, I had the healthy amount of fear that most new DOs have. I anticipated that long hours and dedication to taking every opportunity to learn would leave very little time to spend with family, friends or for self-care. I thought I would be putting my personal life on pause during the next three years in order to focus on becoming the best clinician I could become. Starting a new hobby or interest didn't even cross my mind. As a single person entering the rigorous life of residency, I also thought dating would be off the table for the foreseeable future.
However, as we all know, as soon as you make plans for your future, life has a way of turning them upside down. That was certainly the case for me.
Shortly after starting residency I met my now fiancé. With him, came his interest in rock climbing, a pursuit he is very passionate about. My previous experience with climbing was limited. Actually, the only time that I had been to a rock gym was for a classmate's birthday party when I was 10 years old. A few of my friends in medical school climbed and I always wrote it off, thinking I was too busy studying. But my fiancé and rock climbing were already going steady, so it was time to chalk up my hands and give it a try.
On an early date, we went to an indoor climbing gym near his house. I was instantly drawn to the physical challenge that it posed. I had been athletic in high school and college, playing team sports, but this was different than anything I had experienced before. When he described it as "yoga on a vertical wall," I agreed whole-heartedly.
I soon learned to belay my partner, I bought my own safety equipment and the very next month he took me to Birdsboro, PA for my first outdoor climbing adventure. I was surprised at how the natural environment changed the experience so drastically. Feeling the roughness of the crag in my hand and below my rubber-shoe-covered foot, felt distinctly different from the indoor plastic "rocks." I was hooked.
With rock climbing, as with medicine, there is always something new to learn; the next unfamiliar challenge to face. Of course, my long hours at work did not allow me to go on climbing excursions every week. But under the instruction of my fiancé, and his seasoned climbing friends, with each new climb that I was exposed to, I slowly learned the basics. I became more comfortable with all the ropes, gear and equipment used as protection, in the same way I became comfortable with my new responsibility at the hospital.
The following summer, I took a trip to the Shawangunk Ridge in New Paltz, NY or "the gunks" as people call it. The location is famous among the climbing community as one of the best climbing areas in the country. The specific climbing route my group had in mind was called High Exposure. Most of the climb is not rated as a particularly difficult level. However, the multi-pitch climb has one part called "the move."
"The Move" was aptly named. To accomplish the maneuver, the climber reaches up for an obscured handhold while partially dangling her body precariously into exposed air far above the tree line. As intimidating as this sounded, I was promised that the views were incredible and worth the adrenaline rush to get to the top.
When I reached the ledge where I had to lean out grasping for the notch in the rock to place my hand, I did not stop to look all the way down to the ground. I knew it was far below me. Instead, I was wholly focused on the task ahead of me. It took multiple attempts to find just the right body position that would allow me stretch to my full length and grab the grooved handhold. When I reached the top, a few minutes later, only then did I realize how heavy my breathing was with the effort and excitement.
For me, the beauty of climbing is that it provides an escape from all the stresses that come with being a resident. There is no room for distraction when I have to concentrate all my thoughts on my climbing partner, the safety gear and the rock in front of me.
Looking back, it was silly of me to think I needed to stop my life outside of work in order to be a good resident. Thankfully the conversation around medical professionals' mental health and well-being has gained more attention in recent years. We know that when we feel happy, fulfilled and inspired in our personal lives, it helps us to go to work with a refreshed attitude. Spending time on a hobby that makes me so engaged that I forget about medicine and everything else altogether, does not detract from my duties, but instead allows me to take better care of my patients in the long term.
Photography Credit: Erik Turner
Share this post: