Why Everyone Should Try Kickboxing
Why Everyone Should Try Kickboxing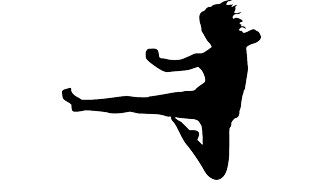 Jab! Cross! Left body hook! Right front kick! Left side kick! Right roundhouse kick! Beads of sweat drip down my face as I finish Round Six. I am exhausted. The sense of accomplishment is palpable. Not only have I made it through one hour of high intensity exercise after a long day of work in the office, but I have learned a few valuable life lessons along the way.
I first began kickboxing three years ago, when I joined an iLoveKickboxing gym. I walked into my first class not knowing what to expect. I had watched my younger brother earn his black belt in karate when we were in high school. I wondered if hitting that punching bag would be as painless as he made chopping that block of wood look. I was driven. I began by wrapping my hands and wrists with the colorful red wraps that I had purchased from the gym. The endorphins kicked in. I was now ready to be a kickboxer!
The music began to pump loudly through the speakers. How exhilarating! We started with laps around the room, followed by various combinations of shuffles, burpees, push-ups, sit-ups, leg raises, and exercises with names that I had never heard of before. Next came the stretches. We practiced an array of poses reminiscent of yoga stances to warm up our muscles.
Then, it was time. I strapped on my kickboxing gloves. I was assigned an instructor to guide me each step of the way. We began our first round, in which I learned how to "jab" and "cross." My muscles ached after a good couple of punches. Each time I started to tire and lower my gloves, my instructor was by my side, cheering me on to persist. "You can do it. Don't give up. You've got this!" I heard. I learned another important lesson: "Never take your gloves away from your face." I put my gloves back up in front of my face and repositioned myself into the "fight" stance. A second wave of energy spurred me on. This was a challenge, and I loved every minute of it.
With every round of kickboxing, I enhanced my memorization skills through repetition and practice. I needed to remember different combinations of punches and kicks with each new round. I found that my memory became increasingly strengthened in everyday life. I paid more attention to detail, particularly where it mattered – when I spent time listening to my patients. Kickboxing also taught me the skills of quick thinking and decision making. I learned how to think on my feet, literally and figuratively.
In addition, I acquired a skill that seems to be increasingly important in this day and age: self-defense. Every time I kickboxed, I felt confident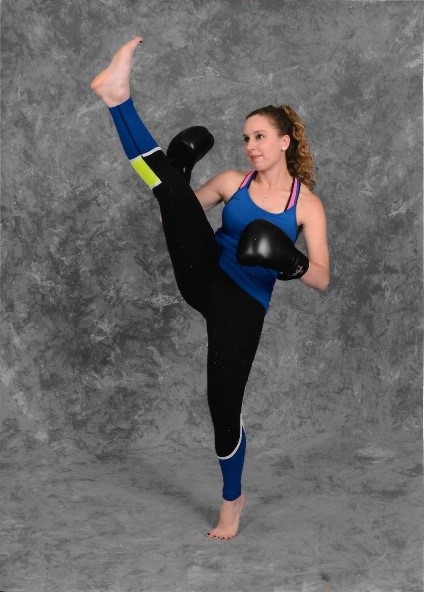 and empowered. I met individuals who inspired me at each class and made new friends along the way. I brought family, including my twin sister, my boyfriend, and other friends to try kickboxing, because I wanted them to feel empowered and confident, too. Not only did kickboxing make me feel strong physically, but mentally, as well.
Kickboxing taught me the value of respect for others. Every session would conclude with partner drills, whereby I would practice punches with a new individual each time. We introduced ourselves, shook hands, motivated each other with positive words, and talked each other through the drills, wanting to improve each other's skills. I partnered with both male and female athletes, individuals of my skill level and those who were more advanced than me, so that I could challenge myself to become better, too.
I attended more and more classes each week. It was hard work, most times, coming to classes after a day of working long hours as a doctor. Diligence, perseverance, and discipline became even stronger values that I embraced every week as a kickboxer and as a physician. As the adage first popularized by President Theodore Roosevelt goes, the best kind of work is the work that is worth doing. My heart told me that just like practicing medicine, kickboxing, with all the life lessons it was teaching me and that I could teach others, was one that was meaningful and worthwhile.
Kickboxing has taught me to be a leader. I feel emboldened when I wear those kickboxing gloves. A challenge is no longer a challenge, but an opportunity to try something new, a feat that can be accomplished if I work hard enough and believe in myself.
The kickboxing experience has inspired me to take on new leadership roles in both my professional and personal life. I became a Chief of my residency program at the beginning of my second year. Outside of work, I started coaching Special Olympics athletes in soccer and basketball, wanting to give them the same joyful experience that athletics has given me. During their practices and games, I provide first aid as a medical volunteer. I also played as the only female on an all men's indoor soccer team, scoring two goals in a season. Finally, I became a licensed Grade 8 United States soccer referee and currently referee U6 to U19 level games. I am one of only a few female referees at the soccer club, and one of only a few women there to referee men's soccer games. As the Adidas logo famously says, in my mind, "Impossible is nothing."
Kickboxing has truly been a gift. Not only is it the best workout that I have ever encountered, but it is a sport and an art that has helped shape the person I am today. I feel strong. I feel confident. I feel capable. I want others to feel the same way. Through my own fitness endeavors, I hope I can be an inspiration to my patients. With hard work, dedication, endurance, persistence, and willpower, anything is achievable, if only you believe in yourself.
I believe in you. Now, get out there and kickbox!
Share this post: